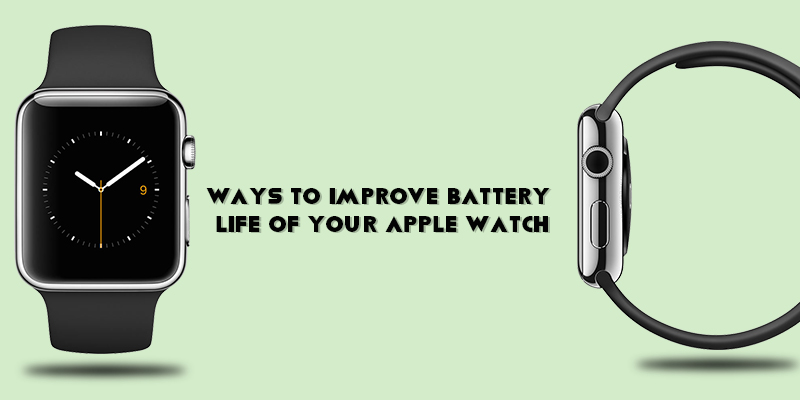 Ways to Improve Battery Life of Your Apple Watch
Apple Watch is unquestionably one of the best smartwatches that you can get now, but when it comes to its battery performance, it's not more than average. However, if you use this smartwatch prudently, it can last up to 2 days on a single charge. In this article, you will see ways that can improve the battery performance of your Apple Watch. Here we go!
Turn Off the Always-On Display Feature
You get a handy Always-on Display feature on Apple Watch Series 5 and other latest smartwatches of Apple. Well, Apple says that they have reduced the refresh rate of the smartwatch's display from 60Hz to 1Hz in the Always-On Display feature, so it will consume a negligible amount of energy. However, it consumes energy, so it will be great if you turn off this feature. In order to do this, you will have to follow a few steps written below.
First of all, Open the Watch application on your Apple smartphone and go to the Settings. Now choose the General option, and open Display & Brightness. Now uncheck the Always-On option in order to turn off the Always-On Display feature.
Lower the Screen Brightness and Use a Dark Color Dial
The Apple Watch features a small OLED display panel and the OLED display is based on self-emitting technology that means it contains multiple pixels and each one produces its own light. So when you lower the screen brightness or use the dark mode, pixels use very less battery or get turned off. So ultimately, it saves the battery from consumption. You can activate this feature in the Display & Brightness section.
Reduce Notifications
The push notification feature is undoubtedly very useful as it helps us know various things without actually opening the main applications. But it consumes too much battery of a device, whether it's a smartphone, tablet, or an Apple Watch. If you turn off the push notification feature, it will not only reduce the battery consumption but also improve the performance of the device. However, some people won't agree for disabling this feature, as they need to check a few things continuously and for that, they will not want to open a particular app again and again. Fortunately, we have options to stop particular applications. You just need to open the Notifications in the settings and here you will see a list of apps, turn off notifications of the apps as desired.
Avoid Making Calls
Apple Watch features options to make calls and use it as a walkie-talkie, and both the tools consume too much battery. So try to avoid making calls using your Apple Watch.
You are buying this device because it boasts a variety of advanced features and it will be completely unfair if I suggest you not use them. Please note, I'm not saying that you must stop making calls via Apple Watch, please do it only when it's necessary as it will improve your device's battery life.
Enable Power Saving Mode While Working Out
Apple Watch has a fantastic heart rate sensor and it works flawlessly, but not everyone actually needs this feature. You can completely disable this feature if you want to save battery consumption. The device will still track other things, like distance traveled, total time you spent on the workout, your speed, calorie-burnt, etc. In order to turn off the heart rate monitoring feature, you will have to open the Watch app on your iPhone, open the Workout section, and turn on the Power Saving Mode.
There are plenty of other ways as well that you can use to increase the battery life of your Apple Watch, such as avoiding playing music using your Apple Watch, turning off the wake-up feature, disabling background refresh, or turning off other unnecessary features, etc.